Main Content
Drywall Installation
Ceiling & Wall Repair
Bonded & Insured
21 Years of Experience
One-Year Warranty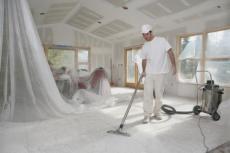 Do you need a drywall contractor to assist with framing walls and hanging drywall at your new home or business? Has a recent flood left you with drywall water damage? Are you interested in removing a popcorn ceiling or installing soundproofing walls to upgrade your space? For these and other services, turn to Hebe Drywall. We've been providing drywall installation, replacement, and repair to property owners in the greater Manchester area since 1999, and our team has 21 years of experience as drywall contractors under our belts. We'll put everything we've learned in those decades on the job to work in your building, ensuring you get accurate workmanship, sturdy and safe installations, and lasting results. Get in touch with us today to learn more about how we can help you, and to book your appointment with us! 
We're proud to be a locally owned business, based right here in Manchester. We're available to provide drywall repair, installation, and other services to home- and business owners throughout the surrounding region, including in Portsmouth, Salem, Concord, Laconia, Haverhill, and Nashua, in New Hampshire as well as in Methuen, Fitchburg, and Boston in Massachusetts. Wherever you're based in the area, we'll get a skilled drywall contractor on site to provide the installation or repair services you're seeking.
On top of our two decades of experience in our industry, we're proud to be fully bonded and insured. Your property is in good hands when you choose us to install soundproofing walls, repair a water-damaged ceiling, patch a hole in your wall, or otherwise make your space look and feel its best. What else makes us one of the most trusted drywall companies in town? We stand behind all of our workmanship with a one-year warranty. You won't have to stress about whether our repairs or installs will stand up to the test of time, because if something goes wrong we'll get someone out to your house or commercial space right away to make it right.
We offer free estimates for everything from drywall repair to wall texture installation. Our rates for our services are always reasonable and competitive, and we're confident you'll find our prices to be well worth the exceptional work we do. So what are you waiting for? From framing walls as part of a renovation or addition to removing a popcorn ceiling during a redesign to providing skilled wall hole repair that will make unsightly drywall holes a distant memory, Hebe Drywall is ready to step in.
Call or e-mail us today to speak with one of our experienced drywall contractors!